The Peranakan Trio Collection: An Emblem of Time
Leading up to the second weekend of November, the Choo Yilin team was excited to be at the Boutique Fairs at the Pit.
It was a great opportunity for us to meet and interact with more of our clients among esteemed Singaporean labels
in a relaxed, cozy setting - plus, we were also planning some exclusive reveals!
First off, we relaunched an extremely limited quantity of an all-time favourite:
The Becoming Collection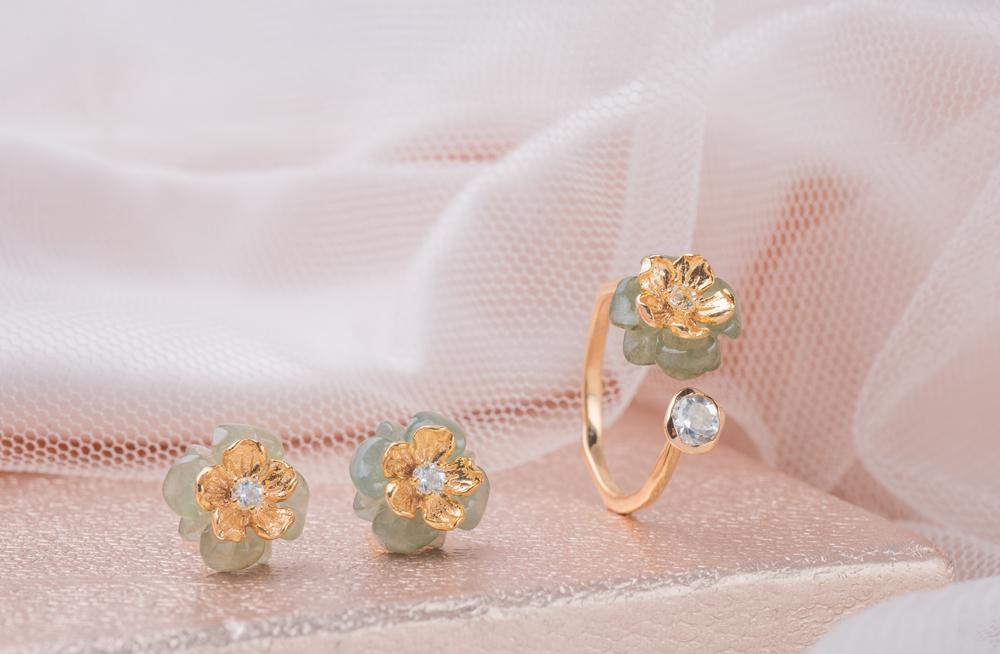 The Becoming Collection is inspired by, and made for the believers, the adventurers, and the dreamers. Plated in the dreamiest champagne gold and paired with brilliantly custom-cut jade to mimic soft petals, the Adventurer's Earrings and Dreamer's Open-Ended Ring were designed to represent inner strength, and tenderness of heart.
Alongside the Becoming Collection, we were especially thrilled to launch our latest capsule collection;
a very special addition to Choo Yilin's iconic Peranakan line.
The Peranakan Trio Collection
The Peranakan Trio Collection is Choo Yilin's thoughtfully envisioned third installment of its iconic Peranakan Line which comprises predecessors Peranakan Flower and Peranakan Lace. The latest Collection features the brand's signature Peranakan flower motif with a key difference - the motifs are designed in harmonious sets of three.
An Emblem of Time.
The trinity is significantly reflective of life's compelling milestones:
its wearers beloved history, their exhilarating present and the special moments yet to come.
Each gem housed at the centre of each motif is symbolic of the sands of time in a person's unique journey.
The Peranakan Trio Collection is Choo Yilin's approach to time-capsules, and tribute to storytelling in the finest detail.
A Wearable Keepsake of Life's Milestones
The Peranakan Trio necklace features the delicate trio motif secured upon a unique, cylindrical cut of jade that is exclusive to Choo Yilin. The sleek design is reproduced on the Peranakan Trio Jade ring, with fine metalwork placed seamlessly atop
a signature Type-A Jadeite band in varied organic shades; no two pieces of jewellery are alike.
Our latest collection debuted with a warm welcome, and we are so grateful for the love shown to the Peranakan Trio Collection over the Boutique Fairs weekend. Didn't get to be at the launch? Fret not. The Peranakan Trio Collection will be officially launched at our Mandarin Gallery Flagship, and on our website TODAY, from November 16 onwards.
Come by and find your keepsake, or mark cherished memories with your beloved.
We, at Choo Yilin, hope you find a memento to hold memories where they belong - with you, always.
Update: The Peranakan Trio Collection has sold out, and is no longer available.