Choo Yilin Weddings: Styled Shoot with Melissa C. Koh
A wedding is the pinnacle milestone of romance.

Jewellery chosen for that once in a lifetime walk down the aisle must embody the meaning of that love, of which is enduring, faithful and special. This is why wedding jewellery is so important and personal – it must reflect and emphasise that unique sparkle that comes intrinsic to brides alone. It must emulate the glow of a woman deeply in love.
Creating pieces that tell stories of love, heritage and becoming are the heart of Choo Yilin jewellery. The brand specialises in exploring emotionally significant moments and crafting these stories into more tangible keepsakes.
To immortalise a love story through a series of visual mementos, we work with an amazingly talented group of creatives to bring you an elegant and ethereal wedding styled shoot with the stunning Melissa Celestine Koh at the Chapel @ Imaginarium.
Left, Melissa wears the lavish White South Sea Pearl Necklace with Peranakan Clasp, a piece that captures light perfectly, with its full string of lustrous pearls, moonstones and intricate metalwork inspired by tasteful Peranakan lacework. The South Sea pearls are set in White Gold, made for classy elegance. The look is completed with the Bamboo Marquise Ring in iridescent White Quartz and the captivating Peranakan Lace Jade Bangle.
Melissa's favourite collection from our curated wedding trousseau: the romantic Cherry Blossom Jade Bangle and iconic Cherry Blossom Branch Ring in a luxurious Rose Gold setting. Complementing these pieces perfectly are the Sakura Bloom Jade Studs with Rhodolite Garnet, for an air of bold identity.
Inspired by the cherished Japanese Sakura and acclaimed for its femininity and definitive detailing, this overall aesthetic is for the bride who flourishes in the magic of love.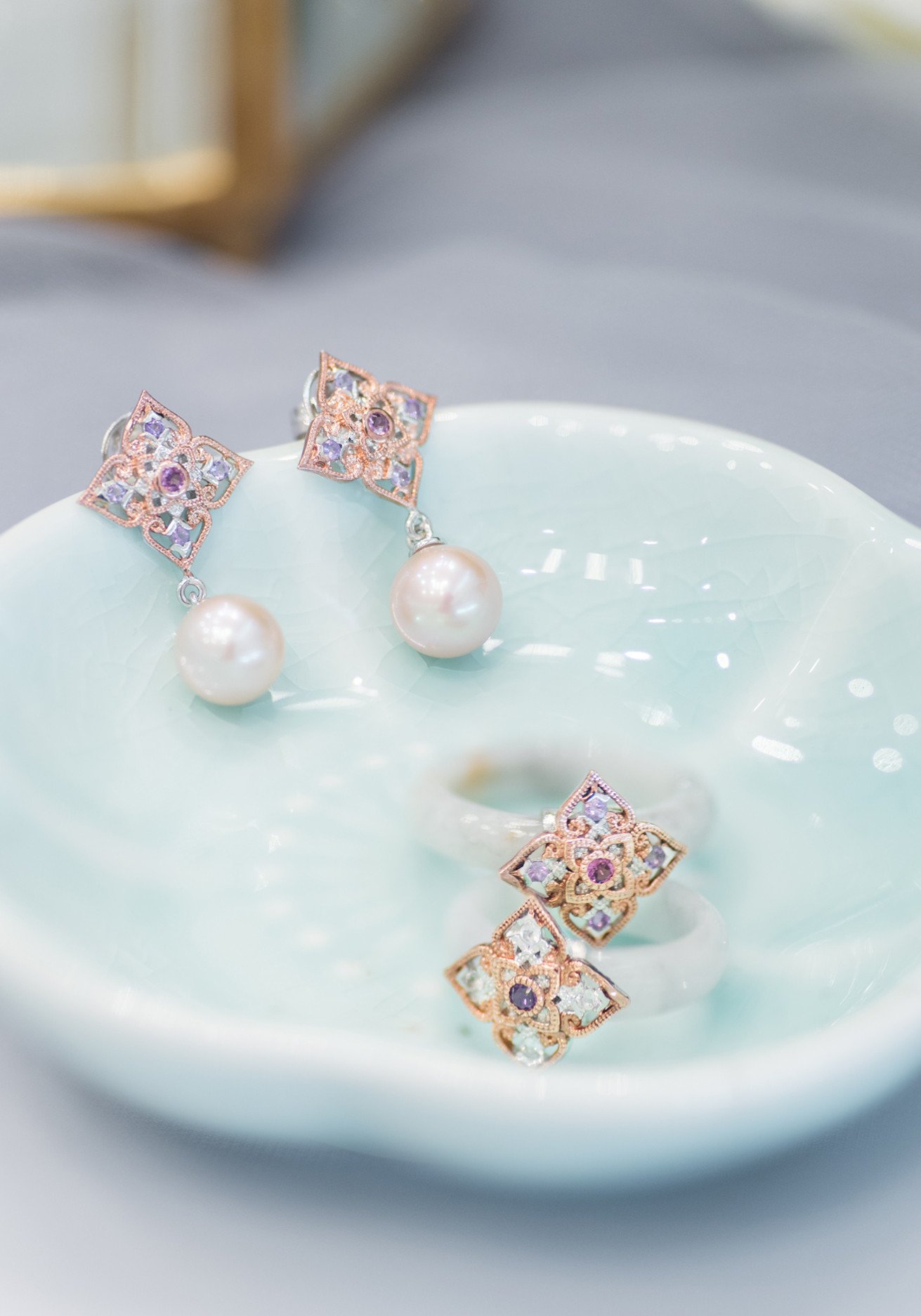 A Modern Twist on Timeless Elegance
A modern twist on timeless elegance for the contemporary bride. A subtle token of splendour and sophistication, the Peranakan Lace Ring features a kaleidoscope of gemstones nestled in a bed of intricately handcrafted dual-plated metalwork. Let the glow of romance shine on your special day and beyond with the Peranakan Lace Pearl drops.